A Guide on Keyword Research in SEO
"Keyword Research" is one of the hottest terms in the world of Search Engine Optimization (SEO)." The term holds a high importance among the online marketing professionals as process of SEO starts with "keywords." In every SEO campaign, keywords serve as a compass that directs the traffic on to the website or the target URL. If someone wants to learn how to bring audience or traffic to the website, then he/she should know "what is keyword", and "how to do keyword research in SEO"?
What is a Keyword?
In common language, it is an idea or topic that describes what your content is all about. Keywords act as shortcuts to sum up the entire page. And, in terms of SEO, it is a word or a phrase that someone searches in the search engines such as Google, Yahoo and Msn to get the desired results. A keyword drives the traffic to a website or blog.
Keywords form part of a Web page's meta title, meta description and URL which in turn help search engines to match a page with an appropriate search query. Keywords play vital role in crawling of websites on search engines and rank on SERP.
Types of keywords:
Short Tail Keywords: These keywords include one, two or three words that are relevant to the topic of the website or the page. For example: Best marketing practices, online marketing, New SEO strategies. Short tail keywords are searched more often than individual long tail keywords.
Long Tail Keywords: These keywords are more specific to the topic and are usually three word or longer. For example: Best online marketing strategies, how to bring online traffic, How to get better results in search engines.
How to do Keyword Research in SEO?
Despite the fact that most of the search engine optimization professionals know about keyword research, most of them do not enjoy the desired results. Reason: they decide on few keywords, put them in Google's keyword planner and come up with keywords as per their instinctive feeling. This entire process sometimes backfires and leaves the researcher with unfavorable results. So, how to do keyword research and tap the target online market in an efficient way?
Keyword research begins with a topic, thought, or main keyword, also called a "seed." The seed can originate from any place, for example the industry knowledge, subject relevant online forums or groups, or from the products and services the website provides. It is advisable to make a list of relevant terms while surfing the labyrinth of website and social media networks on the internet. Longer the list, better will be the keyword research.
Once the list is created, determine the popularity of the keyword and its competitiveness. More competitive the keyword, more difficult it would be to rank it on search engine results pages (SERPs). To get these details, one can use the keyword tools that are available online. Just enter the seed into the keyword research tool such as Google keyword planner and it will provide the required details like the popularity of the keyword and how hard it is push to keyword to the top SERPs. You can always take services of SEO Company in India for the same.
Seed terms is not just about the details like search volumes or competitiveness; they also provide a list of related keyword suggestions that might help you in getting the right traffic. A simple seed taken from a Facebook comment or a discussion in a forum website can become a useful tree of keywords that will you help in the creation of new pages or next blog post.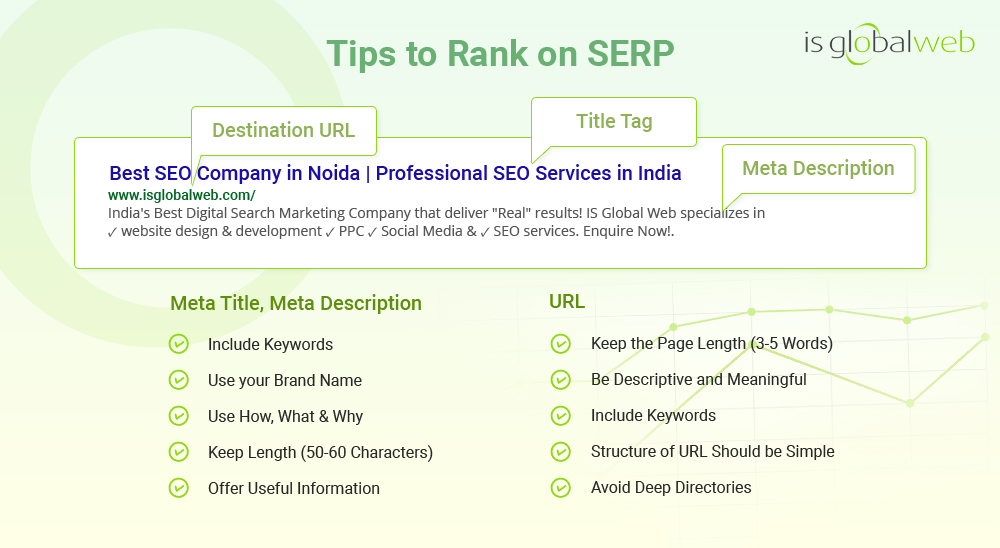 This Infographic will give you a look on tips to rank on SERP and what role keywords ply there. Make sure, you include keywords in meta title, meta description and URL. This will help to get better results and to rank better which is the ultimate goal of every business. Moreover, you can always take help of tips to maintain keywords ranking without strugging much. You just need to implement few tips and use few tools as discussed in this blog.
There are many Keyword Discovery Tools available with the help of which you can discover new keywords as per your business or website requirements. Few are mentioned as follows:
SEMrush – It is a great tool to check the keywords. You just need to enter a domain to see the top keywords website is using for to gain more traffic.
Google Search – You can simply start with typing keywords in Google search box and it will show all phrases related to keywords. You can get an idea to target or not to target these for your website or business. You can continue to typing to get more detailed suggestions.
Search suggestions- Search engines like Yahoo, Bing, Ask have similar search suggestions. Once you start typing keywords you have selected, these search engines will show you all related results which will help you further with the keyword selection. Although, mostly people rely on Google search but we can use these search engines as well to get some additional suggestions.
Google Adwords Keyword Tool- As we have mentioned above, we can use keyword tools online. You can create an Adwords account and just by sigining in, you can get Google Adword Tool to get better results as without siging in you can get 100 per cent results related to the keywords.
However, one should not rely only on the keyword planner tools for the keyword research. To cover more grounds, niche topics are quite helpful. These are the topics on which the target customers are interested. Niche topics are not specific keywords, but cover the topic in a broader term. Wikipedia serves as a goldmine for those searching for the niche keywords. Maintaining your SEO keyword ranking after reaching top position is equally important.
Further, if you are looking for keywords just for your static website and not interested in the cost per click pricing (CPC), you can go with the searches without logging into Google AdWords. It will show you the normal search results related to your keyword which you can use in targetting. If you are interested in the CPC pricing and also want to use targeted keywords in your website for content development or in metas then you should go for results while logged into Google AdWords. You can explore expertise of good SEO company and avail their SEO services to get maximum benefits and earn good profits.
Here is the short description of the columns that you will come across in the Google AdWords Keyword Tool after logging in-
Competition – This column provides you a sense of how many advertisers are bidding for a particular keyword. This data will help you in determining the level of competition of the ad placement.
·Global Monthly Searches – This will show you 12-month average of user queries for the particular keyword on Google search.
Local Monthly Searches – This will show you 12-month average number of user queries for the keyword for specified countries and languages.
·Approximate CPC –This is the approximate cost-per-click which you will need to pay in case you want to bid for any keyword.
This will help you in understanding Google Adwords Tool better. You can learn more about the search traffic statistics shown in this tool in Google AdWords.
In addition to the above, forums and websites like reddit.com also serve as a large playground if you want to do keyword research for SEO.