Thousands of the simplest modern affordable responsive HTML5 CSS3 responsive templates
This post will focus on the following topics.
The internet world is evolving every day. Technology and mobility became close needs to almost every human being. Smart phones and tablets are a necessity today for any successful daily business and the number of smartphone users is expected to reach 2.5 billion users in 2019.
As a result, mobile applications became a daily companion to every smartphone user. Mobile Applications can organize your daily tasks, help you become a good athlete, or even provide you meditation techniques.
The more the need to mobile applications grows, the more technology becomes sophisticated and adaptable to accommodate modern and contemporary applications with the best user experience.
Today, for any enterprise project to succeed, it must provide a prominent online and mobile presence through either search engines, social media or mobile application online stores like Google play or Apple App Store.
Technology helps web and mobile application developers to build world-class products like apps that self-market because it helps developers to provide the best user experience presented as a website or a mobile application.
Websites have been significantly improved through out the last few years to provide adaptable designs on any device size like small smartphones, tablets up to large desktop screens.
This adaptable design is called "responsive design" which means it responds to the screen size and resolution used to render and this post will provide real examples of technology applications and show you how you can get the best out of a responsive web design template with HTML5 and CSS3.
We will explain what an HTML5 CSS3 responsive template mean in the next section with great live cheap themes you can purchase to stay ahead of your competition in your business.
Mobility and responsive web design
Before mobile technology evolves, web developers and designers used to struggle to build websites that are compliant to desktops and mobile devices. They used to build a website that fits on desktop screens and a different mobile site for mobile devices of the same product.
Apparently designing and developing more than one website for the same product costs huge effort, time, tedious operations and, of course, more budget.
That's where technology came in place so that developers and designers build only one website that fits seamlessly on any device screen size and/or resolution without worrying about how to make it render correctly on those different screen sizes despite the huge difference.
A single website or web page that renders seamlessly on a desktop screen, tablet and a smartphone, with no design issues like text goes off the screen, stretched or squished images, or even overlapping elements, is called a responsive website.
Responsive designs provide developers and designers a reliable base to build on a product that would provide a different user experience on every different device. Developers would start their responsive user interface development process by selecting a reliable responsive framework, for example Bootstrap.
The bootstrap framework provides the basic responsive elements (like navigation bars, form inputs, drop downs, buttons... etc) and layouts with their HTML tags and CSS responsive classes so that developers can just start with a relevant grid system to build the layout then embed those elements to end up with a complete responsive page.
A responsive web design template with HTML5 and CSS3
Sometimes designers or web developers prefer to select a ready-made responsive template that matches the main theme of their product and do some minor modifications to meet the product requirements.
Integrating a website with an existing web design template saves a lot of money, development, design time and keeps your website ahead of its competition with the best user experience approaches and design patterns used.
There are tons of responsive HTML5 CSS3 templates that are built on top of Bootstrap framework that match every online business where developers, and customers in general, would find worthy to explore and base their product out of them. Here are some excellent examples of professional HTML5 responsive templates in different business criteria:
Professional Responsive Templates Complete List
Photography
If you are a photographer and looking for a good website design to kick off a significant online presence with the best exposure to your brilliant work and unique photos, then start by checking that responsive web design.
The most perfect HTML5 CSS3 responsive template that works on all devices seamlessly starting from desktop screens, tablets down to smartphones. The web template also consists of a good portfolio design that will present a photographer professionally; in addition to the technical quality efforts that are exerted to provide a valid semantic HTML coding that will render the template on any browser.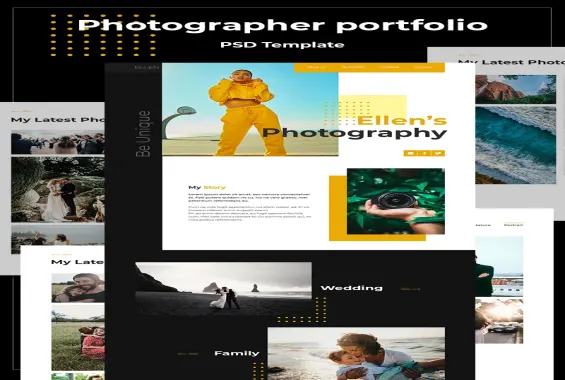 Restaurants
Start your restaurant online business by one of the most elegant web designs that would boost your orders online.
Your site would be available and presentable for all users who use desktops, tablets or smartphones. Template features:
Stick-to-top menu: The most professional user experience and the easiest in the same time with the top navigation menu that would be always available to the user at the top while he scrolls the site.
Slider: Professional captured photos for food and meals can be well-presented in a slide show that will roll images either automatically or when the user navigates through them.
Font icons: A modern selection of ready-made font icons that can be easily used.
Blog: attract more customers by attractive content that would result in a huge online success.
Contact form: an easy-to-use contact form for your online customers who will be able to easily send their questions or inquiries.
Google maps: to easily pin your restaurant's location.
Cross browser: your site will consistently render on any browser.
Documentation: a thorough documentation is provided for web developers to easily integrate the template into the target product requirements.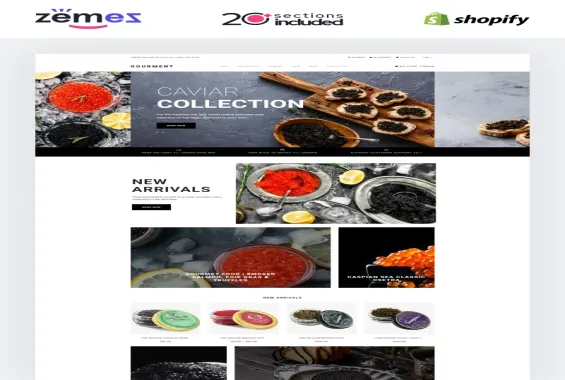 Hotels
One of the best HTML5 responsive templates. If you run a hotel business, what is more important than constant monthly reservations? It's not that far away if you integrate your website with a template that will reach out to the users who reserve rooms online using desktop, tablets or smartphones.
The website theme has effective features like:
Fixed powerful navigation menu.
Well-designed gallery sliders that will demonstrate the different hotel rooms.
A professional contact form to facilitate connecting users to the hotel.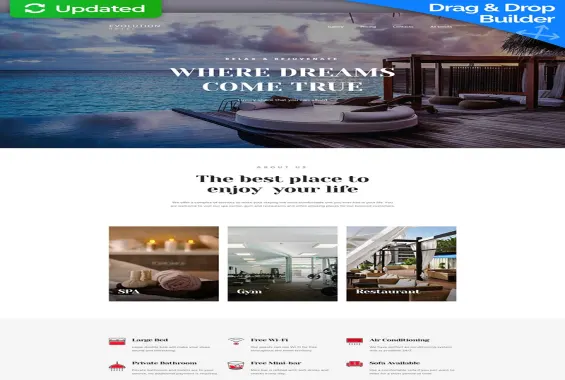 Real Estate
One of the most appealing, modern real estate web designs that provide the best out of web animation, search, apartments gallery to the online user who is looking to rent or buy properties.
Try a live demo now and check out the template features:
Stick-to-top navigation: top navigation menu will be kept fixed at the top of your browser while you scroll up or down.
Slider:

seamless gallery sliders that well-present the properties catalog.

Background videos:

a contemporary approach running videos in the background of a user input form.

Contact form:

to ease communication between you and your audience.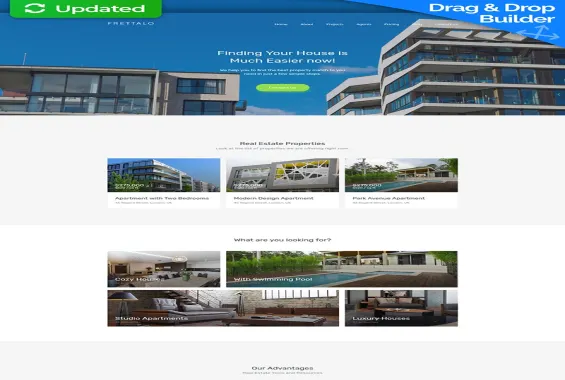 Fashion

Get ahead of your competition online blending your fashion site with this theme. With a great modern and seamless design, users will get exited browsing and interacting with your site to find out more about your collections and new items. Your site will have amazing features like:
The top fixed navigation menu.
Parallax design which makes the site navigation scrolls to the the relevant content regions.
Contact form to let users easily connect with your stores.
Engage now running a live demo of this template and start your first step towards your fashion store success.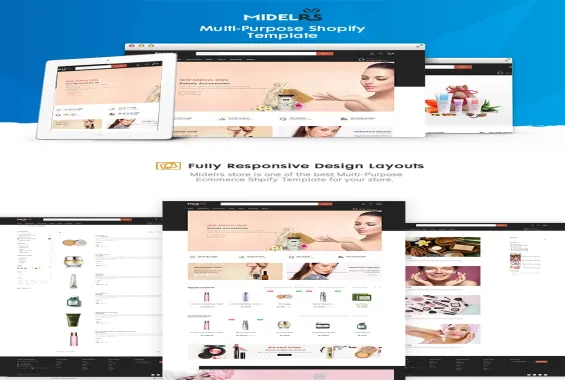 Electronics
Find only success for your electronic services center with a website designed with this template. If you own a center that repairs electronics like computers, tablets or smartphones then engage into online success and boost your business orders by an elegant website online designed and integrated with this theme.
The template consists of many useful features for users like fixed menu, sliders and contact forms. Check it out and you will find out why it's one of the best responsive HTML5 CSS3 templates.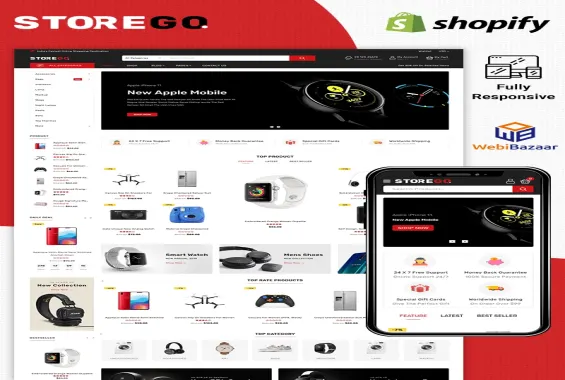 Law
As a lawyer, if you are looking to grow your business online, then start with a website skinned with that professional theme.
Improve your services in criminal defense, civil litigation, estate planning or employment law having such a genuine professional template. Besides having the best out of an HTML5 CSS3 responsive template working on all device types like desktops, tablets or smartphones, your website will be feature rich with features like:
Stick-to-Top menu that will be fixed at the top of the screen no matter where the user scrolls.
An easy to use contact form for office services communication.
Social media integration like Facebook, Twitter and Instagram.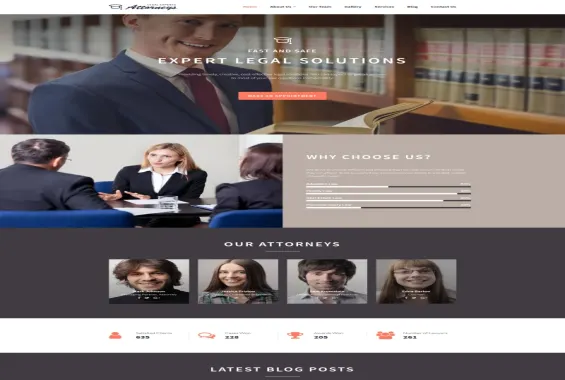 Insurance
Nice and seamless responsive web design for insurance services like life, business, home, or car insurance. Boost your insurance services awareness to all user types using desktops, tablets and smartphones.
The template is designed with light bright colors and user-friendly fonts for the easiest readability. A live chat is also supported with a professional fixed menu to help the users post any inquiries or feedback.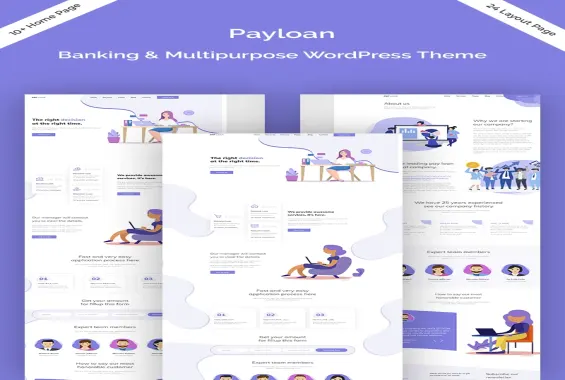 Cars
The most perfect responsive theme for cars trade online. Users will be able to buy or sell their cars, check the latest prices in nice and attractive catalogs with more than one design like the catalog block and the list design.
The template also consists of a latest news section, contact us menu and a fixed top navigation.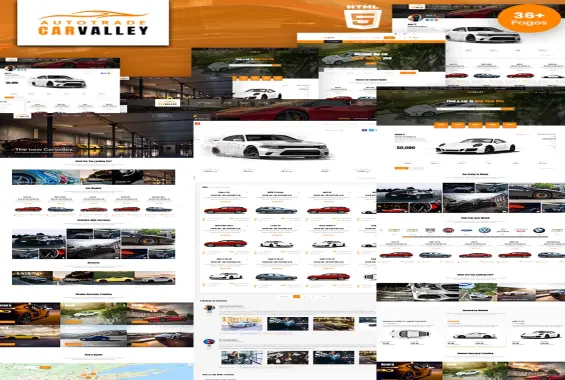 Company portfolio and services
If you have plans to start a new website for your company then buying this theme is highly recommended to be your first step in your plans. Your company's website will be compatible with any device type and screen size starting from large desktop screens, tablets and down to smartphones.
The template web design is completely and professionally representable for your company, and it helps exposing the prominent valuable services, features, mission and real client testimonials.
Not only that, the template will help the user connect with the comany with more than one call-to-action like a nicely-designed in-page contact us form and another fixed one at the bottom. Building your website on top of this theme would be a gread added value to the website and to the company's online profile overall.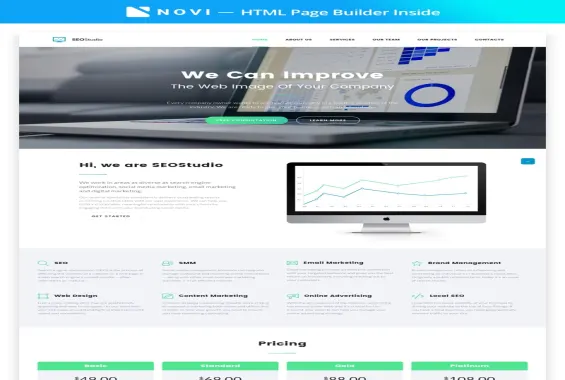 Design Portfolio
Deloo is one of the most professional and presentable web design themes for many designers.
The best choice to introduce your designs online encouraging clients to be loyal and have some serious sales. Comfortable design and the ease of use will be some of the advantages your website will provide to your customers if it's skinned with the Deloo theme.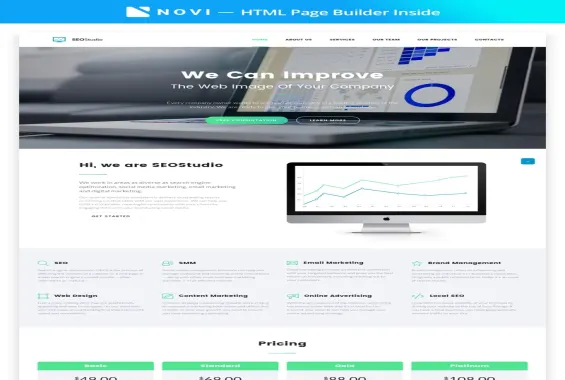 Web Development
The most perfect web design template if you want to build a web development services website.
This web design will attract sales and projects for your organization by professionally introducing your services, acheivements, work team and latest news. Your website will reach all types of clients using desktops, tablets or smartphones.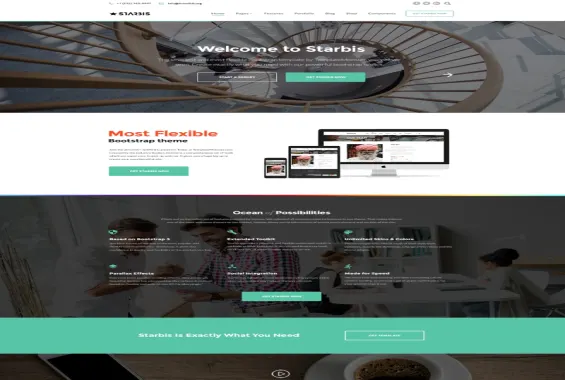 The previously mentioned templates are a very small subset of the complete collection which is over 1500 responsive design themes built on top of Bootstrap, HTML 5, and CSS 3. Feel free to browse the complete list of the HTML5 responsive templates that would guarantee your online success.
Over 1500 Modern HTML5 Responsive Templates