The most dominant factor for search engines ranking any site is undeniably how strong your backlink profile is. As of today, search engines also weigh every link that goes to your site differently.
The website links pointing to your site affect your rank differently based on numerous factors. Some of these factors are the link's position, type, behavior, and much more.
The source website of the backlink also matters in ranking. Backlinks that come from article submission sites are treated differently from dofollow links coming from directory submission sites and so on.
This entire process is called: link building, in SEO.
But, does that apply to backlinks coming from blog comments?
That leaves us with more interesting questions:
How would the links coming from comments to your site affect your page SEO rank?
Would all blog commenting sites work the same way in ranking your backlink profile?
Is blog commenting affecting your site rank in a good or a bad way?
What if most of a site's high quality backlinks are just coming from blog comments?
Are comments backlinks dead in search engine optimization?
In this post, I am going to address most of the frequently asked questions about blog commenting and their impact on SEO and what the experts, and Google, say about them in the following manner:
Let's not focus on search engines at the moment and think of comments as a feature of a website or blog. Is it important to allow users to leave their comments on a blog post or a product page listed on a website?
Here are some striking facts:
According to WordPress, there are 77 million new comments submitted to blog posts every month.
Based on TechJury, WordPress received around 400,000 daily new comments in 2012.
SimilarTech statistics showed that over 152 thousand websites are using Disqus, and over 100 thousand of them are unique domains.
So, what is blog commenting?
Comments are a great feature that allows site visitors to do one or more of the following things:
Suggest an idea that could be a turning point for your service or website.
Leave a question about your service or product that could turn them from prospects to leads.
Share their feedback about what you offer and how you offer it. This could be extremely helpful to improve your business.
A great channel to allow the users constructively criticize your service.
Share an opinion about a topic being discussed.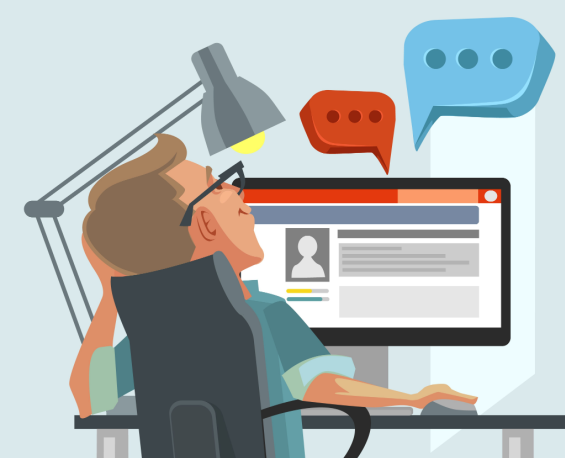 So apparently, commenting on a page is a way of communication between you and the community.
Comments are not only used on blog posts; they are a cornerstone in social media too. For example, with the help of comments, you can distinguish between genuine and fake news and many other things on social media.
Product reviews are also comments
Imagine how many times you searched for your favorite product on Amazon, then you went straight to the reviews to see what other validated purchases think of it.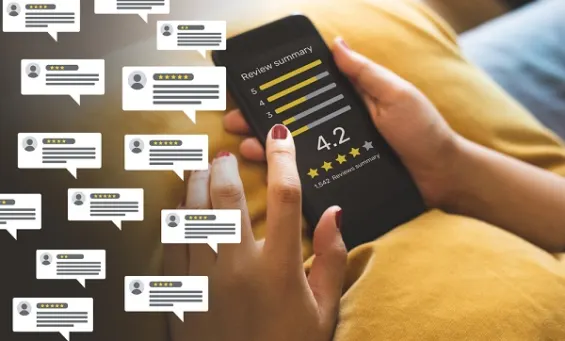 No matter how good the product is described on the page, you only gain real trust in your purchase from the product reviews.
Product reviews can protect you from spending real money on something you find yourself don't want, or at least misled by the seller's page.
These product reviews are, in the end, comments.
Which type of blog commenter are you?
If you are a blogger or own a blog, where other readers comment on your writings, you should have noticed that there are different types of comments that make you almost identify the person who's commenting on your post.
Theoretically, there are several types of blog commenters. But for simplicity, we are just going to limit them to spammers, and non-spammers.
Spammers are those who want to leave you any comment for the sake of gaining a backlink out of it. Regardless if their comment makes sense or is consistent with the topic discussed or not.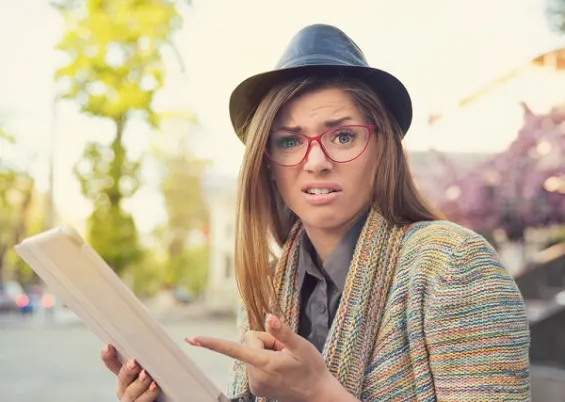 Of course, on the opposite side, non-spammers are those who read your content, want to engage with you, and share their ideas or feedback.
If you are trying to comment on a blog post, it is always recommended to add value to the blog post content, engage with the writer, ask a question – a real one, or at least share a valid idea or feedback that makes sense.
How not to write a blog comment
A bad example of what not to comment on blog posts is:
Thank you for your great content, it was really useful, and I will keep reading the blog…
This comment did not add any value or leave any connection between you – as a reader who is supposed to have read the article – and the author.
How to write a good blog comment
Instead, a good example of a blog post comment would be something like this:
Thank you for posting such a great, useful article. Though, what did you exactly mean by XYZ? Did that work for you? We tried that in ABC, but it turned out with negative results. What do you think we have done wrong in this case?
In the previous example, it was obvious that you have read the article, at least tried what the author was talking about, and had a few questions for him.
To know more about the different types of comments, we found that this article is a great resource for you to read.
We also encourage you to read more about the 8 blog commenting mistakes that you should avoid at all costs by Neil Patel.
Now let's move to the most common question when it comes to blog posts commenting:
Why blog post comments are important?
Allowing readers to comment on a piece of content yields significant benefits to the author, the owner of the website, and the users themselves.
Engagement
Although the number of comments on a blog post is not related to the importance, traffic, or quality of the content. But, skimming through the comments might leave you with an impression or curiosity to read the article.
Allowing users to comment on a blog post creates a channel of engagement between the author and the readers. Especially if your content ends with an open-ended question or asking for feedback.
Author Connection
Comments allow readers to connect to the author of a blog post easily without revealing too much about themselves or requiring any consent.
Content Improvement
Authors can improve their content based on the feedback provided through comments. They can add more details, remove/adjust inaccurate content, or answer frequently asked questions in the comments.
Better Readers Communication
Comments do not only benefit the authors of a blog post. Readers can also communicate with each other. They can answer other readers' questions and widen the range of expertise and collaboration on the discussed topic.
Does blog commenting still work for SEO?
Search engine algorithms are still a black box to SEO experts today. Nobody knows how exactly they are programmed and ranking every website.
The information we have so far is based on experiments and case studies.
The short answer to the main question of whether blog post comments can help in SEO or not is:
Yes, they can.
According to an interesting case study by Neil Patel, some blog commenting tactics can boost your SEO performance.
If the blog comments' backlinks to your site are coming from high domain authority sites and they are do-follow, they will more likely improve your rankings.
This topic will be emphasized with more details in the next section.
However, reading that case study well is highly recommended to expand your knowledge around how the case study is built and the type of data used to validate the results.
How to find good blog commenting websites?
Looking for a good website to post a blog comment to is not that hard. You are looking for a website that has one or more of the following criteria:
Enabled CommentLuv WordPress plugin.
Provides a do-follow backlink to your website.
With high domain authority.
With a low MOZ spam score.
This article will help you find CommentLuv-enabled websites that pass link juice through blog post comments.
When you go through the list, make sure you check if the existing comment links are do-follow, the website is of high domain authority, and with a low MOZ spam score as mentioned earlier.
However, we decided to make the job even easier for you to find eligible blog commenting sites that can help you build a stronger link profile.
In the next section, you will find a list of websites that we filtered carefully to match the criteria mentioned before if you commented on their blog posts.
Our top list of blog commenting sites
We did a lot of research and strict refinement to gather a group of websites that allow blog commenting.
What we did is based on the following rules:
We visited each website to make sure it is up and running.
The website has a fast page-load response which leaves a good impression.
The website is of high domain authority, which explains more about the power of its backlinks.
MOZ spam score is 10% or below to reduce the risk of harming your website.
Based on the rules above, here's the blog commenting sites list:
It is always recommended that you look into each website well before deciding to leave them a comment with your link on it. The metrics mentioned earlier may have changed between the time we wrote this article and the time you read it.
How many comments to write on blog posts per day for SEO?
There is no definitive rule or good rate of posting comments on different blog posts but let's take a quick look at this.
When you comment on a blog post, it is essential to know that they go through a moderation process to review your comment's relevancy, spam, value, and appropriateness.
The moderation process on most websites takes some time ranging from a day to probably a week if not more on high-traffic sites.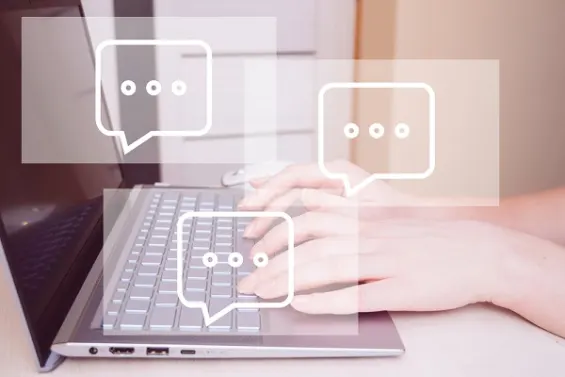 That means you should not rely completely on comments if you're looking for backlinks but, on the other side, many of your comments could be approved by different sites on the same day by coincidence.
In that case, your site will gain a high rate of backlinks in a very short period which could trigger a backlink spamming signal to search engines that in return, will harm your website rather than benefit it.
It is always mandatory for your link profile to be natural and the rate of gaining backlinks is a sensitive factor for search engines assessing how natural your profile is.
Pros and cons of blog commenting
The Blog commenting feature can be a blessing and a curse to website owners. Since commenting is an easy and fast communication channel between content authors and readers, there will be difficulties.
Let's focus on the advantages first then see how site owners suffer from some types of comments posted on their high DA blogs and websites.
Pros
As mentioned earlier, the benefits of blog commenting to content writers are as they:
Allow them to improve their content through constant feedback.
Add the ability for users to communicate with each other and answer questions.
Improve your blog post's SEO by increasing engagement with your content.
Provide a 2-way communication between the author and the readers.
Can include attractive keywords to search engines that can be used to improve the main content.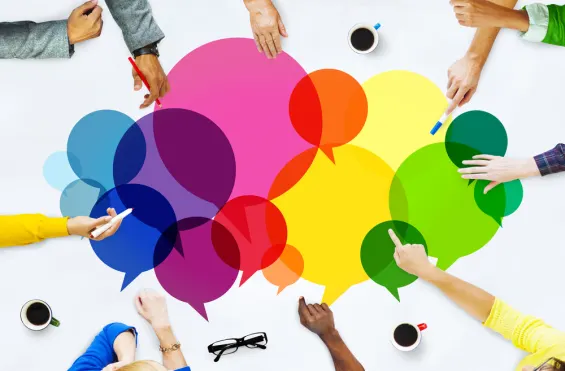 Now, let's check what the disadvantages of blog commenting
could be.
Cons
As much as blog comments can be so useful, they come at an additional cost. The downsides of comments are:
They are subject to spamming: Users who just target your comments section to gain a backlink for their site (or probably more than one site) will not read your content. They will post a huge number of backlinks in their comment and probably add some sugar to them by just saying "Thank you".
Additional moderation effort: Of course, with spamming comes the need to review those comments before publishing them on your website. Which requires extra effort, time, and frustration.
Extra broken links removal effort: Users who depend mostly on comments' backlinks, will not likely succeed in improving their sites' SEO performance. This will lead to the end-game of those sites linked in those comments, which means, broken links. Broken links will harm your website's SEO if not maintained regularly and removed as soon as spotted.
Those are the main prominent disadvantages to blog commenting but, of course, there are more. If you decided to allow commenting on your posts, you should consider that cost beforehand.
However, two different ways help in addressing the consequences of blog commenting.
As a site owner, the first one is to state your commenting policy clearly and make sure it is reachable and visible to everyone before posting a comment.
Perhaps they should agree to that policy before submitting the comment form on your website.
The second one is to just disable the ability to comment on blog posts that have comments exceeding a certain threshold or maybe disable the feature completely if you're not ready for the maintenance cost mentioned earlier.
We will come to that later in this post. But, for now, let's check what a comment policy is and how it can help.
So, what is a comment policy?
Over time, with a high-traffic website, you get an enormous number of comments per day. As mentioned earlier, this requires additional care and grooming to wipe out those spammy ones and only keep the comments that extend and add value to your content.
While the moderation process becomes time-wasting and unmanageable, you figure out that you need to invest that time into more important tasks and other projects.
This is where the comments policy comes into play. Comments policy is a set of predefined rules that you state clearly on your website for other users to read before submitting a new comment.
A good example of a comment policy is the one published on CopyBlogger.com. Take a look at this:

You can also include what to avoid when submitting a new comment as an attempt to communicate as follows:
However, publishing a comment policy will not prevent undesired submissions that require moderation. It will only help in making everyone aware of your rules before the submission.
So, what if we just decided to shut down the comments feature and spare that cost entirely?
Would disabling blog comments affect SEO?
John Mueller, the Senior Webmaster Trends Analyst at Google, was asked that question on Google Search Central on Feb 5, 2021.
As seen in the video, he did not advise keeping or removing the comments from a website. It's completely up to you.
However, if users are currently finding your pages through these comments, then removing them will impact your SEO. Since Google considers comments as part of the content but treats them slightly differently.
He also mentioned that if comments add value and extend your content, then deleting them will also affect the assessment of your overall content.
So if you ever thought that blog commenting is dying in SEO, then I think the answer is: NO.
At this point, I think that allowing people to comment on your blog posts is a useful feature that can help your SEO and it is worth the grooming cost that comes with it.
Disqus vs CommentLuv, which plugin is better?
If your site is built under WordPress, then blog post comments, as a feature, come in as an external plugin.
Both Disqus and CommentLuv are great comment plugins that can be used to enable such a feature on your site with slight differences.
CommentLuv will allow commenters to link to the latest post under their comments which is a good motive for site owners themselves to engage with their readers.
On the other side, it allows including do-follow external links which is a spam magnet to your site if not well taken care of.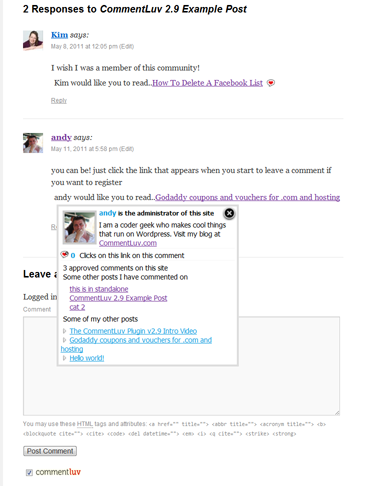 Source: http://onlineincometeacher.com...
Disqus is a more community-focused plugin. It comes in with a great set of features like real-time comments, the ability to external sign-ins using social media, sharing your comments on other sites, and some more community features.
However, it does not link to the latest post like CommentLuv.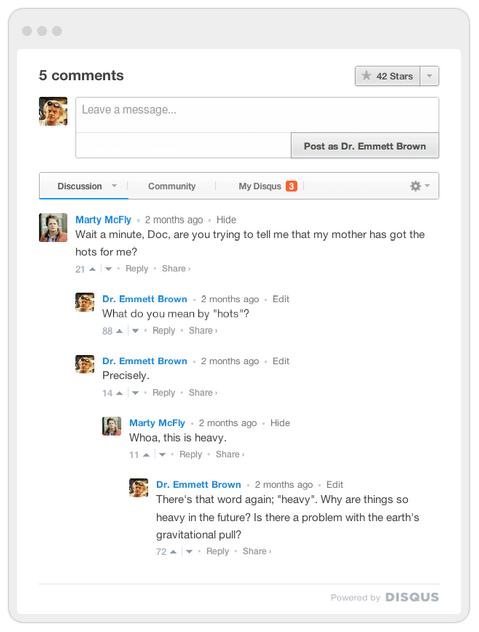 Source: http://onlineincometeacher.com...
With that being said, you can weigh both plugins toward your desired goal and how you want comments to function on your website and, take your pick.
Conclusion
Blog commenting is a useful feature for engagement, feedback, and content improvement that is not dying in SEO and can be of great benefit to your site overall.
Always read the article you are commenting on well, and try to post a comment that adds value to the content and perhaps extends it at some point.
That way your comment will likely be approved and authors will be happy to find it through the moderation process. So it's a win-win.
Do not excessively comment on many blog posts in a short time. If you got lucky and all of them were approved, you will be unlucky if they all link back to your site in that short time.
I hope this article helped share those useful blog commenting sites that might help you find great opportunities to share your word.
This entire article was all about commenting so, if you have any questions, feel free to share them in the comments.
Did you find this helpful?
Read Next
The following articles are related to top 100 blog commenting sites list - instant backlinks.