Building a strong link profile for your site is a non-ending strategy and also a learning process. In this post, I will focus on how directory submission sites play a prominent role in ranking your website in search engine results.
I will answer a lot of interesting questions that most of you, who are aspiring to see your pages in the top 10 search results, will ask:
No one denies the importance of backlinks to rank your website in Google's top ten search results. Here are some interesting studies about backlinks and search engine ranking:
Now, how would that relate to directory submission sites? Here's some good news for you. You can get easy, fast, and high-quality backlinks that will rank your website from them and also get you targeted customers at your doorstep.
For beginners: What is directory submission in SEO?
When you find a website that lists a lot of links, specifically the homepage, along with their locations, phone numbers, and business, then that's a directory submission site.
The directory submission approval process is more adequate and faster than the other submission types like article submission sites or blog commenting sites.
Customers use these websites to search for a specific business in a specific location. For example, if a person is looking for a plumber, he can simply search for plumbing websites and he will get a long list of websites that offer their services and in most cases, in the same city, he lives in.
That moves us to the next question.
What is niche directory submission? Is it important?
When you add your website as a directory submission, you will need to specify the category of your business. If your website is all about digital marketing, then you need to add your website to the digital marketing category, and so on.
It is very critical to add your website to the right business category because a person that is looking for renting a car will be completely useless to your digital marketing services.
At the same time, it is even more important for SEO to have your site link added to a page that is relevant to your website. Adding a backlink to your profile that is completely irrelevant to your business will not improve your search engine positioning, if not damage it.
How would directory submission sites help in SEO?
If you submitted your website to the right and healthy directory submission website, you will notice significant improvements in your search engine rankings.
When the right directory website adds your site homepage link to their page, they offer you traffic of targeted customers to your website.
They also transfer authority to your site in the process along with other positive search engine signals that improve your site performance in search results.
Are directory submissions safe for SEO?
Today, the web is full of spammy websites that will harm your website if they are linked to it. That's why Google improves its ranking algorithms every day to blacklist those websites.
It is massively important to carefully check the search engine signals of your target directory website before you decide to add your link. Moz developed a case study to check if Google will penalize the websites added to directories, and the result was around 3% of the websites were banned.
The percentage seems OK but, it does not mean that your website can be among that 3% if you did not pay careful attention to where you are requesting a submission link to your site.
Luckily, there are plenty of easy ways to test the healthiness of a directory submission website against search engine signals. The first and fastest way to check if a website can be of any SEO benefit if it added a link to your page is the Moz spam score.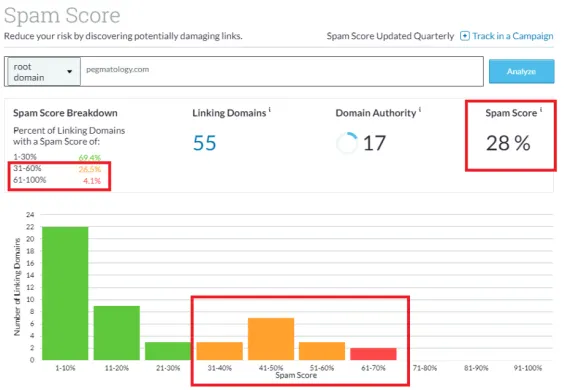 Moz spam score is exclusively helpful for you to quickly see how many spammy backlinks a website has. Do not add your website to any directory site that has a spam score above 10%.
Another useful tool is SEMRush. SEMRush will tell you the distribution of the referring domains of any website by authority score.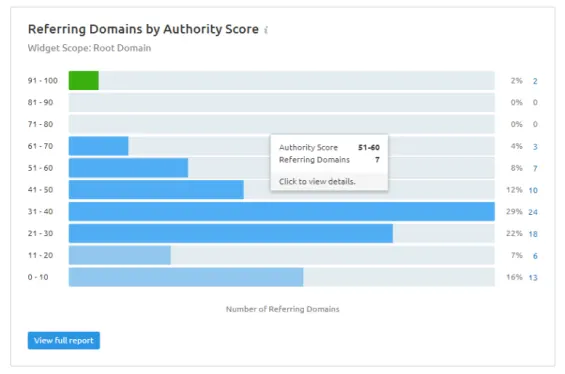 The more authority backlinks a directory submission site has, the better chance it is for you to request linking to your website without worrying too much about being penalized.
What are the types of directory submission websites?
Directory submission sites have 3 main types:
Paid featured directory links.
Regular free directory submissions.
Reciprocal directory listings.
Paid featured directory links
With this type, you will pay some money to a directory website to feature and pin your website on top of the regular links. In some cases, featured directory submissions will offer to add an image of your website along with a link and a description of your website's business.
Paid submissions are helpful if the directory website adds a massive number of websites per day as regular/free links will always be pushed away to the next pages.
Regular free directory submissions
Free directory submissions are the most common type of directory submissions. A website will add your link for free without any charges. Sometimes, a free link added to your website could be of type no-follow which is not the case in paid submissions.
Also, in most cases, free submissions do not include an image of your website.
Reciprocal directory listings
In this type, a directory submission site will add a link for you if you add a link for them on your website. In other words, exchange links with you. Believe it or not, reciprocal links, in some cases, still work for SEO.
An extensive Ahrefs case study found that:
43.7% of top-ranking pages on Google contain reciprocal links.
73.6% of domains have reciprocal links.
How can you find directory submission listing sites very easily?
I made it simple for you. I included my most favorite top 100 directory submission sites in this post with a highlighted focus on the top 3 with more details about their SEO statistics.
Those SEO stats will also help you to judge if adding your links to any website will benefit your rankings or not.
List of free and featured top directory submission sites.
By the time of writing this post, the following directory submission sites list is carefully chosen to have these features:
Clean user interface.
Up and running with an acceptable user experience.
Good page load speed.
High domain authority.
A Moz spam score less than 10%.
Those features will likely guarantee that your website will not be harmed if you submitted your link to the right business in these directories. However, make sure to carefully test every link before you take any decisions submitting your website.
After quite some research, my favorite and most powerful top 3 sites for directory submission are the following.
Boing Boing
This is the top website in the list of sites to submit a directory link to. It has a superb SEO profile that can boost up your website in hard-competition keyword rankings.
Boing Boing's SEO stats
Boing Boing comes with the following powerful SEO metrics:
Website Link: https://boingboing.net
Domain Authority: 90.
Moz Spam Score: 1%.
Alexa Rank: 10.4K
Ahrefs Domain Rating: 85.
SemRush Authority Score: 79.
How to list your website for directory submission
Listing your links on this website is as easy as clicking "Advertise" or "Contact Us" in the top navigation menu. The menu will take you to a detailed page showing the different ways to advertise a link on their website.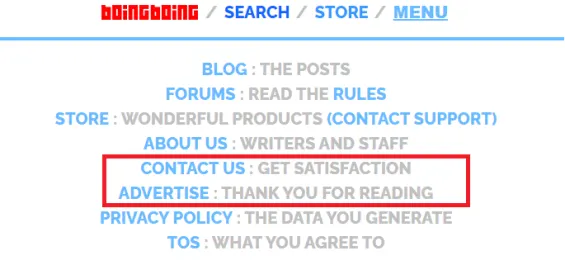 Directory CRITIC
Yet another great website on the list. It comes with a super performance in SEO. Placing a link on this directory site will be a good win for you.
Directory CRITIC SEO Performance
This website would significantly benefit your rankings. It comes with the following profile:
Website Link: https://www.directorycritic.com
Domain Authority: 63.
Moz Spam Score: 1%.
Alexa Rank: 52.6K
Ahrefs Domain Rating: 52.
SemRush Authority Score: 49.
Submit your website with these steps
Head over to the website, click on "Add Your Directory" in the top navigation. Fill in the form and choose whether you want to submit your site as a free or premium listing.
Jasmine Directory
The third most favorite, yet amazing website is Jasmine Directory. It does not offer a free listing but submitting your link to their directory is worth it.
Jasmine Directory SEO Profile
See how powerful this directory submission website is.
Directory Submission Process
You can simply submit your links to this directory by reaching out to their submission form in one step. Just click on "Submit" at the top navigation and fill in the form.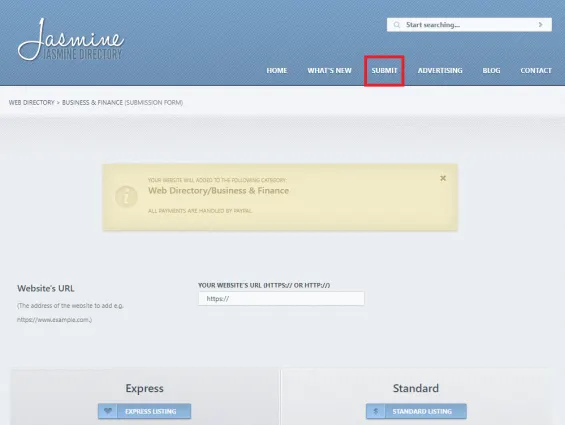 More Free Directory Submission Sites
The rest of the 100 sites is in the following table. They are ordered by domain authority descendingly
What are the rules of directory submissions?
Let's focus on the main objective. Assuming that your SEO content is flawless. You want to rank your page in the top ten search engine results for competitive keywords with the least budget and without being penalized.
To achieve that, the rules are simple:
Collect all the SEO insights you can get for a specific directory submission site.
The higher domain authority a website has, the more likely you notice improvements to your site.
Do not submit your links to a website with a Moz spam score above 10%.
Make sure that the directory website has the same niche as your target page.
Directory submission in the eyes of digital marketing.
In digital marketing, SEO plays an essential role. Your website will receive a non-ending traffic stream of targeted customers. As mentioned earlier, the main factor of off-page optimization in search engine rankings is building a strong backlink profile which will improve your domain authority.
If done correctly and with extreme caution, directory submission comes in place to offer your site easy, powerful, and fast backlinks.
How helpful are directory submission sites for SEO beginners?
Off-page optimization is relatively a hard process, requires patience, dedication, time, and budget for SEO beginners. Directory submissions come in handy in this case where most of the sites offer free placements with a quite easy process.
SEO beginners will not require too much experience in email outreach or to be skilled in digital marketing to achieve a fairly good backlink profile with directory submissions.
Would directory submissions rank your blog up in search engines?
The answer is simple. Relevancy is key. Ask yourself these questions.
Can this website drive quality traffic to my blog?
Which country the most traffic comes from to this directory?
How spammy does this directory website look like?
How authoritative this site is?
Would this website place my link on a relevant page to my blog?
If you have positive answers to those questions, then most likely you will notice improvements in ranking your blog up in search engines.
Can I submit all links to only one directory submission site?
Search engines are extremely smart nowadays. Spamming signaling has been improved over the years and daily. Submitting multiple links of the same website to a single directory is a spam signal you don't want to fall under.
In addition, those directory submission sites have rules. In some cases, you cannot submit multiple free links. Otherwise, they will be rejected. My advice is, pay attention to the rules of the website you want to list your links on to make this process worth your time.
I also recommend reading: How backlinks from different page locations are worth more.
How many directory submissions are enough for one day?
One of the key factors that negatively affects the search engine positioning of a web page is the rate of newly added backlinks. Search engines will be triggered against your site if you excessively place links on many websites, not just directories, in a short time.
It makes sense to perceive that behavior as black hatting. A good practice is to submit your site to a directory once every couple of days. This way, gaining backlinks will look as natural as possible.
For a brand new website: How many directory listings are enough to rank?
A good question to ask yourself is: Does it make sense for a brand-new website to gain backlinks a few days after launch?
Of course, the answer is - NO.
Patience is key in this case. Wait for 1-2 months and start with a slower rate of directory submissions. During this cautious process, keep tracking your Google Analytics for organic search traffic.
Ranking in search engines is an open-ended term too. It needs thorough keyword research, quality content, social engagement, excellent user experience, and much more.
For a new site, it's worth testing your site on a trusty site audit tool and fixing all your technical SEO issues first before thinking of gaining backlinks. Another considerable piece of advice is achieving a high-quality user experience on PageSpeed insights too.
Would directory submissions blacklist your website?
Directory submissions can be a blessing or a curse to your SEO performance. The rules mentioned earlier are simple though. Remember, your objective is to get more sales out of your online business and increase your revenue. Not acquiring as many backlinks as possible.
If you submitted your site to the right, relevant, and non-spammy directory with a natural enough rate, you will not likely get blacklisted. If you noticed any negative change in your existing ranks after several directory submissions, then it is time to disavow some of these links and rethink your approach.
Let's summarize this all together
Off-page optimization is quite a long process. It needs patience, testing, and practice. Directory submission sites are a good tool in SEO, that you can use either positively or negatively.
The rules are simple. Focus on increasing your revenue and attracting more sales and submitting your site to directories that will only promote your site and add significant business value.
Now, what are your thoughts on this topic? I would love to get feedback from you.
Feel free to share your ideas in the comments.
Did you find this helpful?
Read Next
The following articles are related to top 100 local free directory submission sites list for seo.